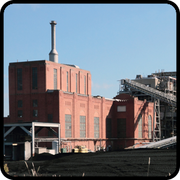 Factories refine your raw materials.
To determine the factory production at a given level, multiply the level with the production at level one.
Type
Available from Level
Resource Input
Resource Output

Production/hr 

@ Level 1

Brick Factory
1
Clay
Brick
800
Concrete Factory
3
Limestone, Gravel
Concrete
2100
Fertilizer Factory
4
Limestone
Fertilizer
1210
Ironworks
5
Iron Ore, Coal
Steel
450
Oil Refinery
6
Crude Oil
Fossil Fuel
640
Glazier's Workshop
8
Fossil Fuel, Limestone, Quartz Sand
Glass
640
Copper Refinery
10
Chalcopyrite
Copper
270
Insectide Factory
10
Limestone, Copper
Insecticide
3500
Aluminium Factory
12
Bauxite
Aluminium
320
Plastic Factory
14
Crude Oil
Plastic
1800
Lithium Refinery
16
Lithium Ore
Lithium
750
Battery Factory
18
Aluminium, Plastic, Lithium
Batteries
600
Arms Factory
21
Aluminium, Batteries, Steel
Weapons
125
Silicon Refinery
24
Clay, Fossil Fuel, Quartz Sand
Silicon
120
Electronics Factory
27
Plastics, Copper, Silicon
Electronics
480
Titanium Refinery
30
Ilmenite
Titanium
320
Medical Technology Inc.
35
Electronics, Plastic, Titanium
Medical Technology
400
Silver Refinery
40
Silver Ore
Silver
3000
Gold Refinery
45
Gold Ore
Gold
240
Goldsmith
50
Gold, Rough Diamonds, Silver
Jewellery
100
Drone Shipyard
60
Batteries, Electronics, Titanium
Scan Drone
1
Truck plant
55
Steel, Batteries, Silver
Trucks
100
Ad blocker interference detected!
Wikia is a free-to-use site that makes money from advertising. We have a modified experience for viewers using ad blockers

Wikia is not accessible if you've made further modifications. Remove the custom ad blocker rule(s) and the page will load as expected.